Highly Salted - Non Ecumenical - Christian News
Romans 15:13
Now may the God of hope fill you with all joy and peace in believing,
that you may abound in hope by the power of the Holy Spirit
Its not when the lie that we are looking for but when they tell the truth.
This is dedicated to pulling back the veil to show you both parties lover the Mother of Harlots. The bible is clear on
the governments of this world.
Revelation 17:13 These have one mind, and shall give their power and strength unto
the beast.
President Clinton:
Source:
http://www.presidency.ucsb.edu/ws/index.php?pid=54862

Remarks to Employees at Gateway, Inc., in Santry, Ireland
September 4, 1998
Thank you for the wonderful welcome, the waving flag, the terrific shirts. I want one of those shirts before I leave. At least shirts have not become virtual; you can actually have one of them. [Laughter]
I want to say to the Taoiseach how very grateful I am for his leadership and friendship. But I must say that I was somewhat ambivalent when we were up here giving our virtual signatures. Do you have any idea how much time I spend every day signing my name? I'm going to feel utterly useless if I can't do that anymore. [Laughter] By the time you become the leader of a country, someone else makes all the decisions; you just sign your name. [Laughter] You may find you can get away with virtual Presidents, virtual Prime Ministers, virtual everything. Just stick a little card in and get the predictable response.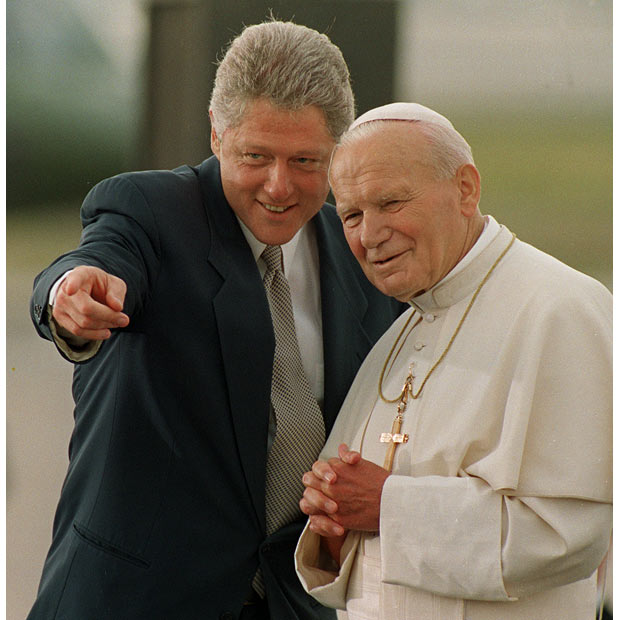 Young Governor Clinton at Georgetown with the University's President (Far Left) Jesuit University


Popular Searches

The bible is the only source that provides a framework for everything happening today. One third of the bible is prophecy and the main point of this site is to proclaim it. The churches of America no longer proclaim these incredible details of current and future events. The good news is you can by faith in Christ experience forever in paradise with Christ in a body that will not hurt or grow old. Time is drawing short and there is a time coming when probation will be closed..
This gift is freely given to those that believe and repent and follow the commandments of GOD.

In 1 Corinthians 15:1-8, the apostle Paul summarizes the most basic ingredients of the gospel message, namely, the death, burial, resurrection, and appearances of the resurrected Christ.
15:1 Now I want to make clear for you, brothers and sisters, the gospel that I preached to you, that you received and on which you stand, 15:2 and by which you are being saved, if you hold firmly to the message I preached to you-unless you believed in vain. 15:3 For I passed on to you as of first importance what I also received-that Christ died for our sins according to the scriptures, 15:4 and that he was buried, and that he was raised on the third day according to the scriptures, 15:5 and that he appeared to Cephas, then to the twelve