Highly Salted - Non Ecumenical - Christian News
Romans 15:13
Now may the God of hope fill you with all joy and peace in believing,
that you may abound in hope by the power of the Holy Spirit
Where are Prayer Beads in the Bible?


Popular Searches

Rosary beads come in all shapes, colors, sizes and quality. Some rosaries are strung with pearl, crystal, wood and even plastic. But where did the ritual of the rosary come from? And what exactly is the significance of rosary beads?
The rosary in simplest terms is said to be a tool used to aid prayer and meditation. The beads of a rosary count the prayers as they are recited out loud or in the mind. The user relies on the rosary beads to keep track of how many times you've said a particular prayer.
"Most commonly recognized in the United States as a symbol of Catholicism, other religions including Buddhism, Hinduism, Paganism and Islam employ rosary beads as well"
(Jessica Ciosek, The Meaning of Rosary Beads - What Do Rosary Beads Symbolize?)
"Prayer beads, or prayer rosaries, are really another form of the "witch's ladder," a knotted rope or cord used to count repetitions during a spell or ritual. Praying with beads is a spiritual practice with a long history in most of the world's religions"
(Janet Farrar & Gavin Bone, Sacred Mists Shoppe).
"Prayer beads originated with the Hindu faith. Using beads for devotions dates to the 8th century BC in the cult of Shiva. In India sandstone sculptures, statues ca 185 BC, show Hindus with prayer beads. The names of Hindu gods and prayers are repeated on stringed beads, called mala, separated by larger or different colored beads"
(Patricia A. Dilley, A History of Praying on Beads).
"Hindu converts kept their traditional use of prayer beads. Buddhist monks always carry a strand of prayer beads, or rosary, usually of 108 beads"
(Patricia A. Dilley, ibid.).
Prayer beads are used by : Hindus, Buddhists, Muslims, and Catholics among others.

"Often, when religions sought converts, they allowed them to retain some of their pagan ways: ceremonial garb, heathen rituals and traditions; in order to add to their numbers. This led to spiritual pollution"
(Patricia A. Dilley, ibid.)

"Before the 12th century, rosaries were used for talismans (amulet or occult charms). Rosaries and prayer beads were intended by the catholic church hierarchy, for use by the ignorant"
(Patricia A. Dilley, ibid.).

"Pagans had used prayer beads even before the 8th century before CHRIST, and they still use them today"
(Patricia A. Dilley, ibid.).
The Bible warns us against use of prayer beads. Matthew 6:7 says:

"But when ye pray, use not vain repetitions, as the heathen do: for they think that they shall be heard for their much speaking. And when you pray, do not...repeat the same words over and over as the Gentiles (pagans) do, for they think they will be heard for their much speaking"
I always find it so sad when I see Catholics say we don't worship Mary.
Screen is taken from how to pray the Rosary wih Mary front and center through out the whole process.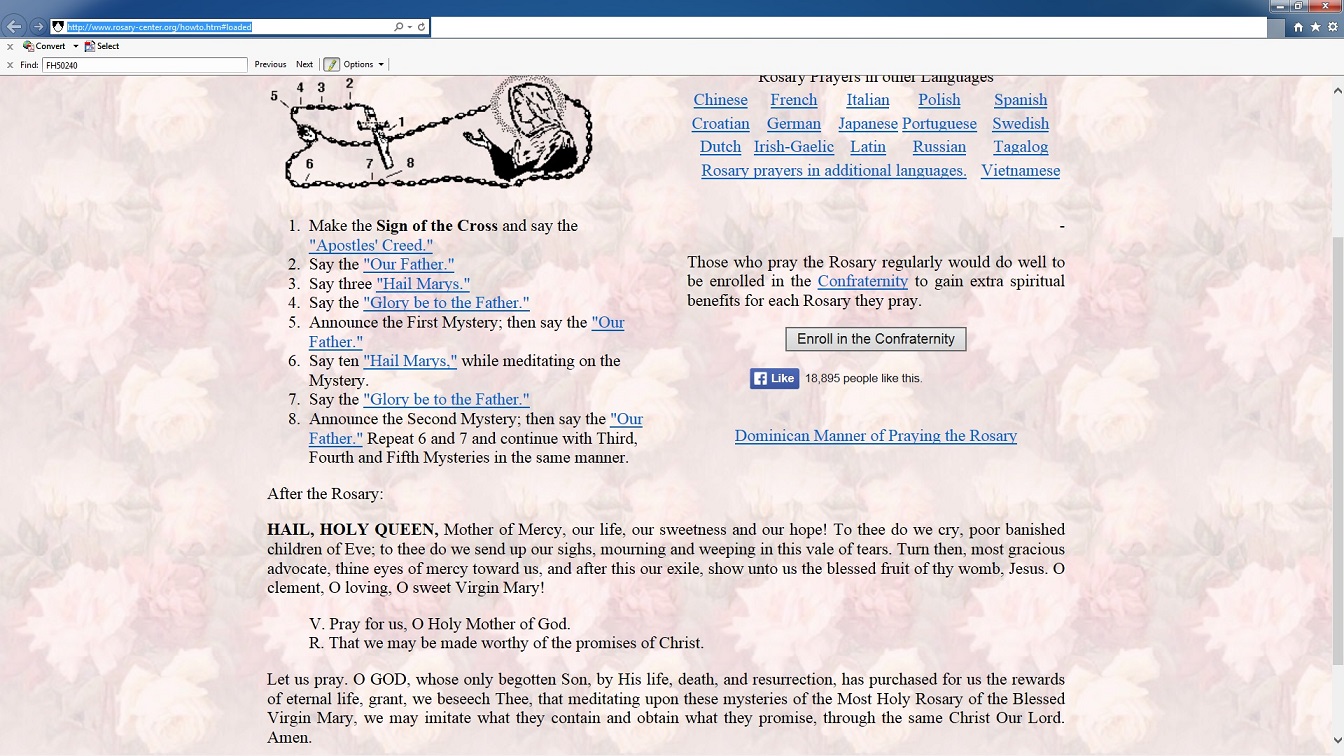 In the Prayer you see the part near the end.
V. Pray for us, O Holy Mother of GOD

Question for Catholics:
1. Where is the bible does it say Mary is Holy?
2. Did you know the bible states Mary did not stay a virgin?
3. How can Mary be the Mother of GOD if GOD was before her?
4. Where does the bible call Mary the Mother of GOD? It does not and Mary refers to herself as a maidservant of GOD.
5. Where in the bible did Jesus say he was not the way, the truth, and the life: no man cometh unto the Father, but by me.
6 Where in the bible does it say to use vain repetitions?
7. Where in the bible does it say Mary is resurrected and now a co-redeemer?
What did Jesus the one and only Savior of mankind say to anyone who adds to this book as Rome does?
Galatians 1:8-9 King James Version (KJV)
8 But though we, or an angel from heaven, preach any other gospel unto you than that which we have preached unto you, let him be accursed.
9 As we said before, so say I now again, if any man preach any other gospel unto you than that ye have received, let him be accursed.

The bible is the only source that provides a framework for everything happening today. One third of the bible is prophecy and the main point of this site is to proclaim it. The churches of America no longer proclaim these incredible details of current and future events. The good news is you can by faith in Christ experience forever in paradise with Christ in a body that will not hurt or grow old. Time is drawing short and there is a time coming when probation will be closed..
This gift is freely given to those that believe and repent and follow the commandments of GOD.

In 1 Corinthians 15:1-8, the apostle Paul summarizes the most basic ingredients of the gospel message, namely, the death, burial, resurrection, and appearances of the resurrected Christ.
15:1 Now I want to make clear for you, brothers and sisters, the gospel that I preached to you, that you received and on which you stand, 15:2 and by which you are being saved, if you hold firmly to the message I preached to you-unless you believed in vain. 15:3 For I passed on to you as of first importance what I also received-that Christ died for our sins according to the scriptures, 15:4 and that he was buried, and that he was raised on the third day according to the scriptures, 15:5 and that he appeared to Cephas, then to the twelve