Highly Salted - Non Ecumenical - Christian News
Romans 15:13
Now may the God of hope fill you with all joy and peace in believing,
that you may abound in hope by the power of the Holy Spirit
To Mormons I ask you to think critically and watch and listen carefully the Mormon leaders. My last job I had a close relationship with a friend who happened to be a Mormon.
I enjoyed our conversation more than any other person in very large multination organization. He really studied American history and was very astute on constitutional matters.
I pray for him now and hope to see in in the kingdom of GOD with his family. To understand Mormonism is to understand Catholocism and one is subservient to the other.
If you want to know how they work together you will need to get an authorized King James bible. Many times in conversation I would hint about things contained in the KJV and the future and there many things that he did not know where in the bible. As a Mormon did know America is the second beast in the bible was foretold by Christ in the KJV. Did you know the Catholics already run this country and was fortold in the KJV. Did you know Mormons and most churches will join hands with Rome also foretold in the KJV.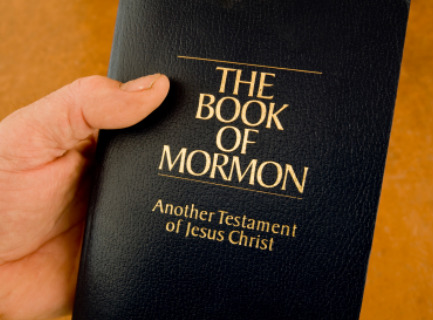 You have a difficult choice to make and I have had to make it also. At that was to come out churches who do not preach the Gospel of Christ. Baptist, Lutheran, Methodist and so many others have join hands with Rome and its ecumenical dominion. Mormonism based on beliefs and architectural evidence carved in stone and the Utah Temple is an off shoot of the Masonic Lodge and Catholicism. Go here to see symbols, Masonic hand shakes, the all seeing eye and pentagrams that adorn the temple.

Take a second and look at the picture of the Mormon Bible above and what does it say?
"Another Testament of Jesus Christ"

What did Jesus say in the already given word he inspired?

2 Corinthians 11:4 For if he that cometh preacheth another Jesus, whom we have not preached, or if ye receive another spirit, which ye have not received, or another gospel, which ye have not accepted, ye might well bear with him.

Galatians 1:6-24 I marvel that ye are so soon removed from him that called you into the grace of Christ unto another gospel:
Which is not another; but there be some that trouble you, and would pervert the gospel of Christ. 8 But though we, or an angel from heaven, preach any other gospel unto you than that which we have preached unto you, let him be accursed. 9 As we said before, so say I now again, If any man preach any other gospel unto you than that ye have received, let him be accursed. 10 For do I now persuade men, or God? or do I seek to please men? for if I yet pleased men, I should not be the servant of Christ. 11 But I certify you, brethren, that the gospel which was preached of me is not after man. 12 For I neither received it of man, neither was I taught it, but by the revelation of Jesus Christ. 13 For ye have heard of my conversation in time past in the Jews' religion, how that beyond measure I persecuted the church of God, and wasted it: 14 And profited in the Jews' religion above many my equals in mine own nation, being more exceedingly zealous of the traditions of my fathers. 15 But when it pleased God, who separated me from my mother's womb, and called me by his grace, 16 To reveal his Son in me, that I might preach him among the heathen; immediately I conferred not with flesh and blood: 17 Neither went I up to Jerusalem to them which were apostles before me; but I went into Arabia, and returned again unto Damascus. 18 Then after three years I went up to Jerusalem to see Peter, and abode with him fifteen days. 19 But other of the apostles saw I none, save James the Lord's brother. 20 Now the things which I write unto you, behold, before God, I lie not. 21 Afterwards I came into the regions of Syria and Cilicia; 22 And was unknown by face unto the churches of Judaea which were in Christ: 23 But they had heard only, That he which persecuted us in times past now preacheth the faith which once he destroyed. 24 And they glorified God in me.

You must take the narrow road and leave Mormonism com ba back to the orginal word of GOD if you wish to escape what is coming apon this world.
What I want to show you is your leaders are blind since they have another gospel they are leading you into the pit of hell sadly. I do not know if they are intentionally doing this or deceived. If you want to understand the amazing prophecies of the bible concerning the antichrist please click here. The videos below will not make sense to you unless you do.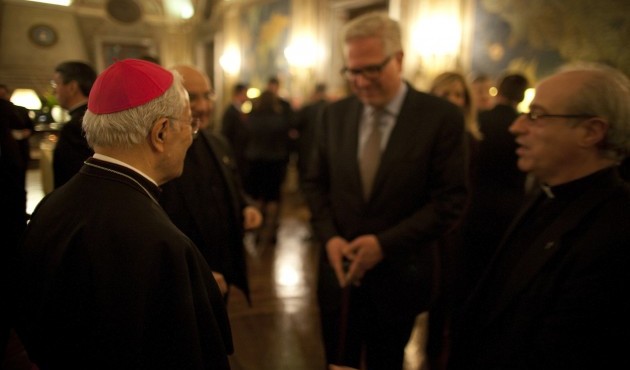 The picture below are of Glen Beck at the Vatican and the video of Glen Beck saying were are catholic now. If you understood Catholicism which is spoken in in the KJV you would never join hands with her. She preaches everything unclean and hates Christ. Click here to see Popes blood drained and sent around the world for people to kiss and pray to. How can Glen Beck support the constitution and be silent on the Majority Catholic Supreme court shreds the Constitution? How can Glen Beck join with the Pope when the Pope calls free speech terrorism?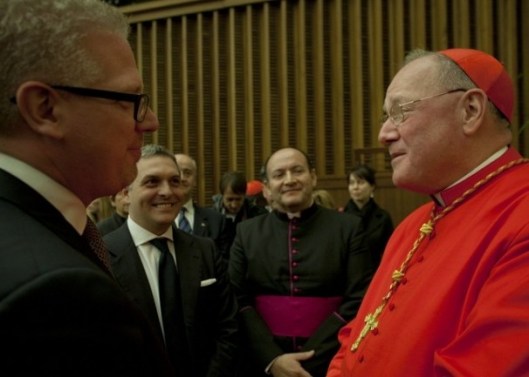 The Pope is pushing the Homosexual agenda click here to see the black Pope and the Sacred Gender loved at the Vatican. The Pope supports kissing the blood and skin of Dead Popes how conservative is that? The Pope also preaches another Gospel that Mary is a co-redeemer in heaven and is the ever lasting virgin. This video shows you that you have two options: Glen Beck has sold out to the Mother of Harlots: Revelation 17:5 And upon her forehead was a name written, MYSTERY, BABYLON THE GREAT, THE MOTHER OF HARLOTS AND ABOMINATIONS OF THE EARTH.

Obama and Romeny have both gone before the Sodomite Bishops together on election night, go here to look.
Again here we have Romney saying the same thing showing he is being deceived or deceiving you. If you Catholic you will have to accept Mary worship, kissing blood and skin of dead popes.

Here's Rick Warren flat out lying about Catholicism, if you want to understand this get a KJV and search out a church who State Cleary the Pope is Anti-Christ. You learn that voting has ended and the Mother and her Harlots are joing world wide for there last stand. Choose which side and there only two either Christ alone or the world wide ecumenism movemnet.
The bible is the only source that provides a framework for everything happening today. One third of the bible is prophecy and the main point of this site is to proclaim it. The churches of America no longer proclaim these incredible details of current and future events. The good news is you can by faith in Christ experience forever in paradise with Christ in a body that will not hurt or grow old. Time is drawing short and there is a time coming when probation will be closed..
This gift is freely given to those that believe and repent and follow the commandments of GOD.

In 1 Corinthians 15:1-8, the apostle Paul summarizes the most basic ingredients of the gospel message, namely, the death, burial, resurrection, and appearances of the resurrected Christ.
15:1 Now I want to make clear for you, brothers and sisters, the gospel that I preached to you, that you received and on which you stand, 15:2 and by which you are being saved, if you hold firmly to the message I preached to you-unless you believed in vain. 15:3 For I passed on to you as of first importance what I also received-that Christ died for our sins according to the scriptures, 15:4 and that he was buried, and that he was raised on the third day according to the scriptures, 15:5 and that he appeared to Cephas, then to the twelve